Shamanism, death and mining in postsocialist Mongolia
Research Area 1: Displacements, "Dépaysement" and Discrepencies: People, Knowledge and Practices
Contact : veronique.gruca(@)cefres.cz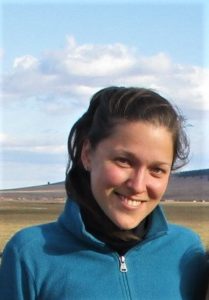 My research focuses on shamanic and funeral rituals among the Buriat Mongols. I aim to study these practices in the context of Mongolia's contemporary political and economic situation, in order (1) to understand how they have been influenced by the post-socialist, mining-based economy, and (2) to study how the relationships between humans, spirits and the dead are being reconfigured in this particular framework.
Although generating much wealth, the mining economy in Mongolia creates both socio-economic inequalities and environmental hazards. Since the mid-90's, 'artisanal mining' also expanded, and started to challenge the relationship established between humans, their landscape, and their spirituality. The Mongolian people have very mixed feelings about it: on the one hand, it generates great amounts of wealth, although only for a (mostly urban) part of the population. On the other hand, it is regarded as harmful to the environment and offensive to the spirits.
Within the context of climate change that notably affects nomadic herders, the environmental damage, caused by mining, creates a lot of anxiety among the Mongolians always concerned with maintaining good relationships with the surrounding spirits and non-humans of the steppe. In this framework, shamans play a key role in the reconfiguration of relationships between humans, the dead and the spirits. My study aims at examining how relationships with the dead and the spirits are being reconfigured in contemporary Mongolia throughout shamanic practices.
The ethnographic data used in this research was gathered for twenty months, over the past five years, spent with Mongolian-Buriat herders' families from the North-East region.
CV
Education
2018 – : PhD in Anthropology, Université Paris-Nanterre
Thesis : « Shamanism, death and mining in postsocialist Mongolia », realised under the supervision of Anne de Sales et de Grégory Delaplace.
2018-2020 : Mongol Bachelor (language and civilization), INALCO (Institut National des Langues et Civilisations Orientales), Paris
2014-2016 : Anthropology Master, Université Paris-Nanterre, with honors
Research and Ethnographic fieldworks
2020 – : 10 months Ethnographic fieldwork in Mongolia
2018-2019 : 5 months Ethnographic fieldwork  (Mongolia, Dornod region, Bayan-Uul and Bayandun districts)
2015 : 5 months Ethnographic fieldwork within the Master framework (Mongolia, Hentii and Dornod regions)
Publications
Gruca V. (2015), « Créer un terrain d'entente. Etude de deux rituels chamaniques bouriates en Mongolie », [Master thesis].
Interventions et Journées d'études
2019 : Participation to the LESC PhD study day (Université de Paris-Nanterre). Presentation title: « Dynamiques intrafamiliales et rituel. Etude d'un rituel chamanique bouriate en Mongolie »
2015 : Intervention to the lecture named « Anthropologie et Photographie » – fieldwork data and master thesis presentation
Fellowships and scholarships
2020/09-2021/09 : CEFRES Associated PhD student , Prague
2012-2013 : Study year in Social Anthropology, Durham University, England, Erasmus mobility program.
Research Grants
2020/06-2020/12 : Presidential scholarship from the International Association for Mongolian Studies, Mongolia
2019 : International mobility assistance grant for PhD students, Région Ile-de-France.
2018 : Fieldwork grant, Ecole Doctorale 395 « Milieux, cultures et sociétés du passé et du présent », Université Paris-Nanterre.