We are happy to announce the name of the winner of the seventh CEFRES Platform Award for best article in social sciences and humanities in an international peer-reviewed journal (see the cfa here):
Martin ŠORM (PhD at the Centre for Medieval Studies, under the tutelage of both the Institute of Philosophy of the Czech Academy of Sciences and Charles University), for his article « Conflicting Popular Culture – Populism and Public History. Vlastimil Vondruška and the Instrumentalization of the Middle Ages » published in Bohemia / 2021
The seventh Derrida Social and Human Sciences Prizes rewarded:
1. Anna ALTOVÁ (Faculty of Science, Charles University) for her thesis:« Lifestyle risk factors of cancer »
2. Filip KINNERT (Faculty of Architecture, Brno University of Technology) for his thesis: « Wholeness As a Basic Assuption for Understanding of Meaning Provided by Architectural Language »
3. Lukáš NOVÁK (Palacky Olomouc University Social Health Institute/University of Groningen) for his work on the neural bases of compassion
The award ceremony took place on 22 June 2019 at the French Embassy in Czech Republic in the presence of the Ambassador Alexis Dutertre and one Nobel Prize laureate: Jean-Marie Lehn.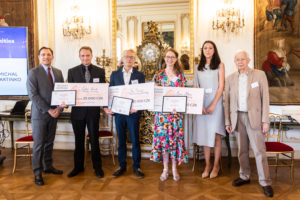 © Eva Kořínková