Changing Young Mind
s: Student Awareness of Human Trafficking under War Conditions
Research Area 1. Displacements, "Dépaysements" and Discrepancies: People, Knowledge and Practices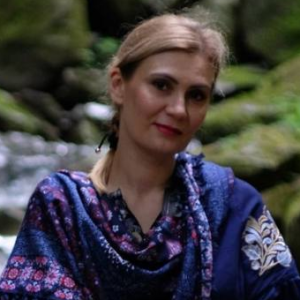 Elina Paliichuk is a Ph.D. holder in Linguistics and an Assistant Professor at the Linguistics and Translation Department of Borys Grinchenko Kyiv Metropolitan University, Ukraine. The interests embrace studies on human trafficking in media: a thesis on frame modeling and research in the framework of the WHTV project, with a focus on metaphor, transportation effect, narrative analysis, storytelling techniques, and image schemas in discourses.  
At CEFRES, the research will focus on identifying the cognitive and linguistic prerequisites of creating impactful anti-trafficking educational products by collecting empirical evidence on how human trafficking is perceived by Ukrainian students under war conditions. The project targets two categories of respondents: the youth graduating from higher education institutions, moving abroad because of the war in the hope to start their career abroad, and the female audience whose number prevails in the humanities at Ukrainian universities.  
Four theoretical areas will be enhanced by empirical studies: metaphorical framing, which implies the study of the social impact of metaphor on the perceptions of the human trafficking problem; schemata-based framing, which embraces the schemata-determined conceptualisation of human trafficking through the lens of specific forms of thought actuating the diversity of human trafficking domains; narrative framing, which presupposes the exploration of the human trafficking scenarios; and sensory-related linguistic framing, implying the influence of the sensory modality verbal manifestations on the change of the behavioral patterns of the vulnerable social groups.  
The state-of-the-art developments offered by CEFRES facilities will help elaborate the subtle instruments for developing educational content on human trafficking risks. In its turn, the Ukrainian practices shared will be feasible for use by social service specialists and educators in European countries for working with the post-soviet target audience with thinking patterns inherent to potential victims coming from the source countries of Eastern Europe. 
CV
Education  
Since 2012: Ph.D. holder. Thesis: Linguistic and Conceptual Peculiarities of

Human Trafficking

Representation in Modern Media Discourse

 

2003

–

2006: Postgraduate Studies Kyiv National Linguistics University 

 

1996

–

2001: MA in Philology, Teacher of English and Spanish and Foreign Literature, Kyiv State Linguistics University

 
Recent Activities
2018-2023: Individual research WHTV initiative (warning human trafficking victims).

 

2017–2019: Associate Translation Fellow at the EU-funded Project "Association4U" aimed at support of the harmonisation of Ukrainian legislation with the standards of EU acquis communautaire (Phase I).

2021–2022: Academic collaboration with the "Association4U" (Phase II) in the area of training for teachers (certificate in Introduction to EU Law and Translation – 6 ECTS).




2023–currently: Academic collaboration with the "Association4U" (Phase II) in the area of coordination of training for students (by speakers from DGT and EU educational institutions).

 
Selected Publications
"Cognitive 'warning signs' in human trafficking media texts", 

Crossroads. A Journal of English Studies

, 38, 2023.

 

Freelancing, translating, observing: Association4U case study.

SHS Web of Conferences

,

105

, 05003, 2021. 

 

Storytelling in English-language anti-trafficking campaign: a cognitive perspective.

Studia Philologica

,

2

(11), pp. 100–106, 2019. 

 

Iconic Construct of Social Situations in Modern Media Discourse.

Studia Philologica

,

1

(6), pp. 20–23, 2016. 

 

Linguistic Fundamentals of Shaping Public Opinion (Based on Human Trafficking Social Situation Represented in the English Language Media Discourse).

Studia Philologica

,

4

, 2015.

 

Linguistic and Conceptual Peculiarities of Human Trafficking Situation in Modern English-Language Media Discourse

[Ph.D. Thesis]. KNLU, 2012.

 

Human Trafficking and Media: Is Language That Powerful?

In Sonia Zyngier, Anna Chesnokova, Vander Viana (Eds.) Acting and Connecting Cultural Approaches to Language and Literature

, pp. 171–183, 2007. 

 
Selected Conference Papers
A transportation effect of sensory human trafficking storytelling




[IX International Conference Language, Culture and Mind University of Almería Hybrid 4-7 July 2022], 2022. 

 

A Spiderweb of Human Trafficking: Dimensions and Perceptions. A Book of Abstracts.

raam15.uwb.edu.pl., 2022. 

 

Once Upon a Time …: Is There a Happy End in a Human Trafficking Story?

In

www.dariah.eu

[A poster], 2022.

 

War is not a metaphor in Ukrainian students' distressful writings: schemata, sensory language, and moral judgments

. In: International Conference on Post COVID-19 Paradigm Shift in Social Science, Technology and Public Health, 2022.

 

Survival storytelling in anti-trafficking social campaigns.

Philological Sciences, Intercultural Communication, and Translation Studies: Theoretical and Practical Aspects

, 2021. 

 

Metaphor in Human Trafficking Media Discourse

[RaAM14 Conference Book of Abstracts. Metaphor and Space. Vilnius, 2021]. Vilnius University and the Association for Researching and Applying Metaphors, 2021.

 

A Visual Narrative in WHTV Project.

2nd International Scientific and Practical Conference "Theoretical and Applied Linguistics", Kyiv-Bialystok, Ukraine-Poland, on 16-17 November 2018

], 2018.

 

Human Trafficking Media Representation: An Iconic Perspective.

ICMC 2017 ["Developing New Theories and Methods", Osnabrück, Germany, on 9-11 June 2017],

2017.



Online scientific profiles