Development of Methodology of Critical Thinking and Pedagogical Support to Counteract Disinformation and Manipulation of Artificially Reproduced Media Content
Research area 2. Norms & Transgressions.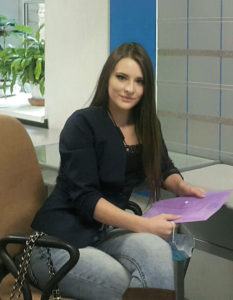 Hanna Chemerys is an associate professor, head of the Department of Design of Zaporizhzhia National University, member of Ukrainian Design Union and from May 2023 is part of CEFRES non-residential fellowship for Ukrainian researchers in humanities and social sciences.
CV
Education
2020: Ph.D. on topic "Formation of graphic competence of future bachelor's of computer sciences".
Selected Publications
"Increase in the Level of competence in immersion technologies Future Bachelor in Computer Sciences in the Process of Studying 3D Modeling". ceur-ws (ICTERI 2019). Ukraine, 2019, 2(2393). pp.17–28 URL:ceur-ws.org/Vol-2393/paper_378.pdf
"Using 3D modelling in design training simulator with augmented reality". ceur-ws, Ukraine, 2019. Vol.2546. Рp.213-223 URL:ceur-ws.org/Vol-2546/paper15.pdf
"Conceptual Model of Learning Based on the Combined Capabilities of Augmented and Virtual Reality Technologies with Adaptive Learning Systems". ceur-ws (AREdu 2020), Ukraine, 2020. Vol.2731. Рp.328-340. URL:ceur-ws.org/Vol-2731/paper19.pdf
"The Review of the Adaptive Learning Systems for the Formation of Individual Educational Trajectory". ceur-ws (ICTERI 2020). Ukraine, 2020. Vol.2732. Рр.547-558. URL:ceur-ws.org/Vol-2732/20200547.pdf
"Analysis of Ergonomic Indicators and Compliance with the Principles of the Instructional Design of Education Courses in Adaptive Learning Systems". ceur-ws (ICTERI 2020). Ukraine, 2020. Vol.2732. Рp.619-633. URL:ceur-ws.org/Vol-2732/20200619.pdf
"Strategy for Implementing Immersive Technologies in the Professional Training Process of Future Designers". Journal of Physics (ViCEST), Malaysia, 2021. Vol.1933. DOI:10.1088/1742-6596/1933/1/012046
"Information System for the Formation of Students' Individual Educational Trajectory". European Union Digital Library (ICEHHA 2021). Indonesia, 2021. DOI:10.4108/eai.3-6-2021.2311038
"Opportunities and Prospects for Personalizing the User Interface of the Educational Platform in Accordance with the Personality Psychotypes". Advances in Computational Design. Vol.7, 2022. Pp.139-151 DOI:10.12989/acd.2022.7.2.139
"Fundamentals of UX/UI Design in Professional Preparation of the Future Bachelor of Computer Science". AIP Conference Proceedings 2453, 2022. Pp.1-7 DOI:10.1063/5.0094433
"STEM Project Based Learning for Future Designers". AIP Conference Proceedings 2453, 2022. Pp.1-7 DOI:10.1063/5.0094432
Peer-reviewed journals
2020 — present: Yearbook of Moving Image Studies (YoMIS)
2022 — present: Rajasthali Journal