The Role of the Church in Society during the War

(On the Example of the Activities of the Catholic Church of Western and Eastern Rites in Transcarpathia)

 

Research Area 1. Displacements, "Dépaysements" and Discrepancies: People, Knowledge and Practices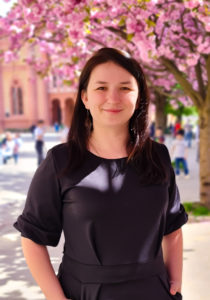 Maioroshi Мaria, Director of the Museum of University (2014), an assistant Department of the History of Hungary and European integration Ukrainian-Hungarian educational institute of State University "Uzhhorod National University" (since 2022). Holds PhD in Historical Studies Lviv National University, Ukraine (2021). My seminars and lectures are – source studies, cultural history.  
Doctoral research is focused on the relationship between the church institutions, the activities of the clergy of Catholic church and also the relations between the Church and the state in XX century.  
The mechanism of liquidation of the Greek-Catholic Church by the Soviet Union, the phenomenon of the "catacomb Church" (more than 40 years) and then the process of its legalization at the end of the 20th century were also considered.  
Currently, the researcher aims to follow how the role of the Church in society has changed over the last century.  
CV 
Education  
2021 PhD, Historical Studies, Lviv National University. Thesis Title: "

The Eparchy of Mukachevo and the Metropolitanate of Galicia: Institutional and Personal Relations between the Greek Catholic Provinces and Their Clergy (1919–1991)"

.

 

2010 – 2013, graduate school ,

Uzhhorod National University

.

 

2010, "master, teacher of history",

Uzhhorod National University. 

 
Internship
2009, Transcarpathian Regional Administration, Department of Foreign Economic Relations, European Integration and Cross-Border Cooperation

.

 

July 4-11, 2013, Institute of St. Clement in Rome.

 
Publications 
Majoroshi M. T

he Metropolitanate of Galicia

and the Greek Catholic Eparchy of Mukachevo : Difficult Relations under Occupation Regimes (1939–1944). Scientific Herald of Uzhhorod University. Series: History. 2021. No. 1. P. 43‒50.

 
Mayoroshi M. Galician Basilian Monks and the Reform of the OSBG in  Mukachevo Greek Catholic Eparchy. Ukrainian studies. 2021. No. 1 (78). P. 217‒228.

 

Majoroshi M. Missionary, Cultural and Educational Activities of Galician Basilians in Subcarpathian Rus. Antiquities of Lukomorya. 2021. No. 1(4). P. 34‒43.

 

Mayoroshi M. Soviet Church Policy, Lviv "Cathedral" and Persecution of the Greek Catholic Church in Transcarpathia. Scientific Bulletin of UzhNU. Law series. 2021. Issue 62. P. 45‒51.

 

Majorossy M.

Re-Enablement of the Greek Catholic Diocese of Munkach.

2021. V. 20. № 4 .

P. 105 – 119. 

 

Majoroshi M. Andrey Sheptytskyi and Transcarpathia. Ark: scientific collection of church history / Rep. ed. Oleg Turii. Lviv: Publishing House of the Ukrainian Catholic University, 2015. Issue VII. P. 232–250.

 
Majoroshi M. Relations of Metropolitan Yosif Slipy with the Pastors of the Mukachevo Greek Catholic Eparchy in the Gulag Camps. "Remained what I was…". Kir Joseph the Blind: a collection of documents. Zhovkva: Missioner, 2018. P. 25‒30.

 

 Maioroshi M. Personal Relations between Greek Catholic Priests of the Mukachevo and Galicia Provinces in the Catacomb Church. Scientific notes of Uzhhorod University. Series: Historical and religious studies. Uzhgorod: Publishing House of UzhNU "Hoverla", 2016. Issue 4. P. 100–115.